Case Study
Custom AI Software
The Challenge
How to use AI to make life easier for telco salespeople?
If you're a telecommunications Business Development Manager (BDM), trying to quickly find good quality leads, it is hard work. BDMs spend up to 50% of their time prospecting, often manually, so the odds can seem stacked against you.
'The current systems make it harder, not easier, for us to succeed in our roles', says Robert England, a telco sales expert with 10+ years of B2B experience.
Google searches are only as good as your search terms, LinkedIn can't present leads overlaid on your telco assets, static lead lists are often out-of-date, expensive and inaccurate, and other approaches such as cold-calls and door knocking are time intensive. On top of that, you're often dealing with multiple systems that aren't integrated, costing time and money.
Technology
Serverless architecture, natural language processing, machine learning, UI/UX, software design and development.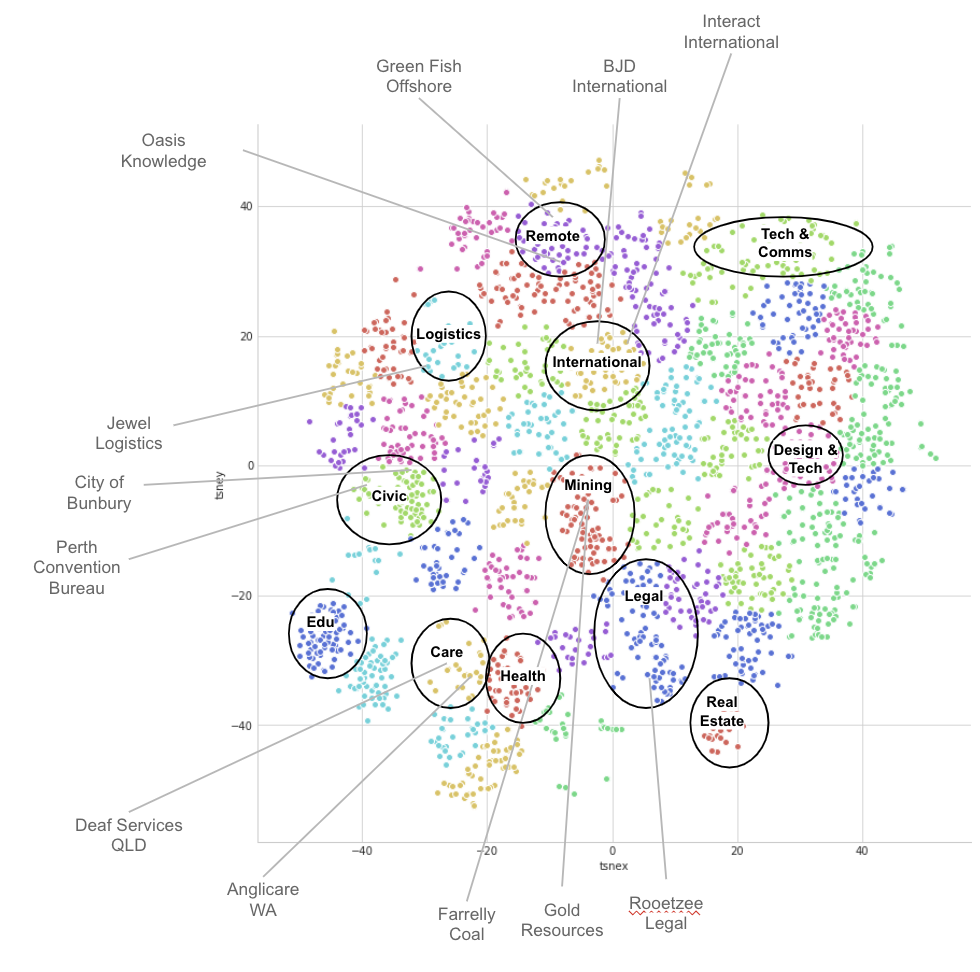 The Platform
Find your next B2B customer using AI
'To help telco BDMs identify their next customer, we had to build the software by deeply listening to our users, in parallel with the refinement of the text-based AI so that it was accurate and worked in real-time. This is really the secret sauce of MapRunner', says Chris Jansz, CTO of SpiralData.
The hype around AI often outweighs real-world results. SpiralData wanted to make sure MapRunner would be be truly useful, by quickly processing large amounts of text and numeric data into an accurate lead recommendation engine the user could interact with on demand. It also needed to be intuitive, easy to use and responsive.
SpiralData liaised with big and small telco companies during the design phase to make sure that it serves those who have sales quotas to meet.
Security is a priority, including but not limited to, role-based security and data encryption in flight and at rest. This overall approach ensures the system is scalable, robust and secure.
The Results
X3 Sales pipeline coverage in minutes
'Using existing telco-assets we had in the field, I found 200 prospects in 10 minutes,' explains telco B2B sales expert Robert England.
MapRunner is the first software dedicated to automating prospecting and presenting real-time results on a map for telco salespeople. It is currently used by 3 out of the top 4 telcos in Australia delivering faster, cleaner prospecting across a wide-range of telco BDM roles;
small-to-medium business (SMBs) use it to find local accounts over their existing telco assets
commercial use it to assess the market potential of key sites
enterprise use it to find key accounts over larger territories
And the roadmap includes a feature for campaign managers to find bulk lists over specific geographical constraints.
MapRunner has been recognised by Amazon Web Services' (AWS) startup program Activate. It is now a member of the top tier across the globe, Portfolio Plus.