Case Study
IoT-to-AI Strategy in Wastewater
Driving data intelligence in a wastewater utility.
The Challenge
To understand the future state of our wastewater utility using data, and how we will get there, before commencing procurement?
Alexandrina Council services more than 7000 customers and treats 700ML of wastewater across 5 townships in regional Australia. It is a highly complex operational environment with sophisticated control assets in geographically isolated locations. Limited levels of technical integration and sophisticated data intelligence has generated a symptom based and reactive work environment. Without a strategic approach this could drive a chaotic strategic planning environment, with the potential to decrease service quality and increased corporate, environmental and public risk.
"While we recognise the benefits of IoT we also understand that a lack of system visibility and data-driven information for operational, tactical and strategic decisions was the root cause. To serve our customers better we needed a Data Strategy to navigate in the right direction,"

— Water Project Officer, Mr Colin Shackleford.
Techniques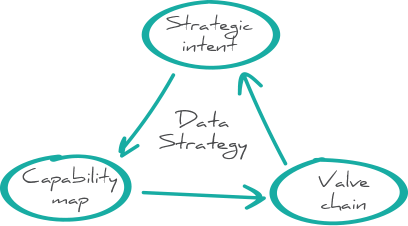 The Methodology
Understand your capability first, understand the technology second
SpiralData used a set of techniques to gain a deep understanding of the wastewater utilities' data requirements quickly:
Key internal and external customers needs
Capability map and intelligence maturity of key business processes
Current vs future information architecture
AWS well-architected framework
Skills gap analysis
Case studies of real world incidents vs future outcomes
This process identified challenges and generated a series of recommendations to deliver value across devices, communications, information architecture and people. An iterative delivery approach has been mapped to maximise value for minimum investment. Furthermore an industry best-practice example was provided to benchmark against.
The Results
A IoT-to-AI framework for the future
"The Data Strategy will provide a framework for the next 10 to 20 years,"
— Water Project Officer, Colin Shackleford.
The successful implementation of this project will provide visibility and remote control of critical plant and equipment. It will also drive strategic decisions, capacity planning and asset and resource efficiencies.
Below is a list of high level themes identified:
Measure, report & analyse
Optimise
Minimise
Strategic planning
Customer value
Sustainable Growth
The economy of scale of the utility provides capability and resourcing challenges but it also provides opportunities. As a 'not-for-profit' utility the strategic objectives are based entirely on benefits to our customers. In this regard the utility's strength is the scale and the ability to facilitate agile processes to drive innovation.
"Failure to strategic plan for the digital transformation of the utility, would be to ignore the future and at our customer's expense,"
— The Sustainability Manager, Mr Gary Lyons.